When to Get a Cataract Test & What to Expect During the Exam
Noticing changes in your vision can be a scary feeling. Your vision is a way for you to connect with the world around you. Any threat to your vision can feel like cause for panic.
As we age, we need more frequent eye exams to check for age-related eye conditions. Cataracts are a natural part of the aging process and can diminish your vision over time. Recognizing what symptoms to look for and understanding how to prepare for an exam can give you confidence when managing your cataracts.
What are Cataracts?
Cataracts occur in the eye when the natural, lens becomes cloudy. Our natural lens is designed to refract (bend) light entering the eye to help us see. When lens proteins break down, your vision begins to look blurry, hazy, and sometimes less colorful.
Diagnosing Cataracts
When diagnosing cataracts, your optometrist may perform a number of tests. Some of these tests include:
Visual Acuity Test: The visual acuity test measures your ability to read a series of letters on an eye chart while covering one eye. You've probably done this test before during your regular eye exams.
Slit-lamp Exam: Slit lamps use intense light to reveal the frontal structures of your eyes, such as your cornea, iris, and lens. This magnified look at your eyes is helpful for detecting smaller abnormalities.
Retinal Exam: Your optometrist uses drops to dilate (widen) your pupil and get a clear look at your retinas.
Tonometry: This test measures the amount of fluid pressure in your eyes.
When you get tested for cataracts, you should expect your optometrist to ask you some questions about your symptoms, vision, and recent medical history. You should also feel free to bring a list of questions of your own if you have any concerns or confusion about your diagnosis and treatment.
It can be helpful to bring a family member or friend along. Your doctor will likely give you a lot of information and sometimes it's hard to absorb it all in one sitting. Having someone close to you at the appointment can help you feel supported and keep track of all the information you'll receive.
Am I at Risk for Developing Cataracts?
Cataracts can develop in anyone's eyes, mainly because they're a common result of aging. However, some other causes of cataracts include:
Smoking
Family history of cataracts
Previous eye injury or surgery
Radiation treatments on upper body
Prolonged UV exposure without eye protection
Certain medications, such as corticosteroids
Other medical issues, such as diabetes
Cataracts generally have a slow onset. Even if cataracts start forming, you might not notice until months or even years later. The signs and symptoms of cataracts include:
Cloudy, blurry, or dull vision
Poor vision at night
Sensitivity to light/glare
Need brighter light for reading
"Halos" around lights
Frequent prescription changes
Fading/yellowing of colors
Double vision
While these signs and symptoms aren't always connected to cataracts, understanding what to look for will help you prevent serious damage to your eyes and protect your vision.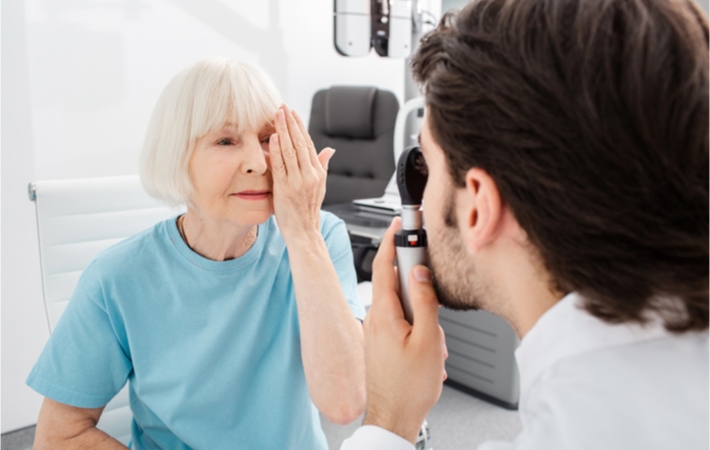 Treatment
Typically, the best course of treatment for cataracts is surgery.
Cataract surgery is usually performed by an ophthalmologist (an eye surgeon) and involves replacing the cloudy lens with an artificial intraocular lens. This new lens is placed where your natural lens normally sits and is designed to rectify vision issues caused by cataracts. Advancements in cataract surgeries can now correct for astigmatism and bifocals/reading glasses.
Rarely, intraocular lenses aren't a viable option. In these cases, once the cataract is removed, your vision is corrected with eyeglasses or contacts.
Cataract surgery is usually performed while you're awake using a local anesthetic to numb your eye and surrounding area. This surgery is usually very safe, but your surgeon will review any possible side effects and complications with you before your operation.
This surgery is usually performed as an outpatient procedure so you shouldn't have to spend any time in the hospital. Patients report some discomfort during the first few days after their surgery. Healing typically occurs over the course of a few weeks, with most patients noticing improvement in vision the following day.
If you have cataracts in both eyes, your surgeon schedules your second surgery the next day or a couple of weeks after your first procedure.
Preventing Cataracts
Currently, there's no proven method to prevent cataracts. However, doctors believe the following strategies can be helpful in maintaining your overall eye health:
Schedule & attend annual eye exams
Quit or reduce smoking
Manage any other health problems (e.g. diabetes)
Eat a nutrient-rich diet
Wear sunglasses outside
Drink in moderation (1-2 drinks per day)
When to See Your Doctor
If you experience changes in your vision or any symptoms of cataracts, reach out to your optometrist as soon as you can. While there's no need to panic, it's best to address any concerns as early as possible.
Contact our team to book an appointment and ask any questions you may have about symptoms, treatment, and your overall eye health.