Spring has come again! We're all ready to get out there with the family and enjoy the big blue skies and warm weather. But, unfortunately, this season of growth also comes with an influx of pollen. Millions of Americans experience seasonal allergies, and along with sneezing and scratching, they can also affect your eyes.
Eye allergies can cause itchiness, burning, swelling, and even dry eyes. Of course, allergies aren't the only cause of dry eye disease, but knowing the source is the first step in finding relief. Your optometrist can assess your eyes, diagnose the problem, and get you on your way to refreshed and clear vision.
What Is Dry Eye Disease?
Dry eye disease is a common condition that affects nearly 16 million Americans. It can happen when you don't make enough or make low-quality tears. The quality of a tear depends on the three layers that make up your tear film:
The inner mucus layer keeps your tear stuck to your eye.
The middle watery layer keeps your eye moisturized and protected.
The outer oily layer prevents your tears from evaporating.
If something happens to the glands that produce these tear layers, you could end up with tears that dry up too fast or tears that simply aren't able to keep your eyes wet. A number of factors can increase the risk of dry eye disease, including age, gender, diet, medications, and other health conditions. Hot, dry, and windy environments can also make dry eyes worse, and so can not blinking enough.
Once dry eye disease appears, you'll likely notice symptoms such as:
Burning, irritated, or scratchy eyes
Redness
Blurry vision
The feeling of having something stuck in your eye
Light sensitivity
Trouble wearing contact lenses
Stringy mucus in or around the eye
Watery eyes (your eyes might try to overproduce tears (reflex tears) in an attempt to correct any irritation)
While mild dry eyes can be irritating, leaving dry eyes untreated may lead to severe conditions such as infections or corneal scarring.
Allergies & Your Eyes
An allergen is a normally harmless substance that can trigger an overreaction in your immune system, also known as an allergic reaction. There are many different kinds of allergies that can affect every part of your body, and that includes your eyes.
We can categorize eye allergies into 3 general groups:
Outdoor allergens: Pollens and mold
Indoor allergens: Pet dander, mold, dust mites, etc.
Irritants: Perfume, cigarette smoke, exhaust, etc.
If you're allergic to any of these triggers and they get into your eye, they can cause a reaction, sometimes referred to as allergic conjunctivitis or eye allergies. When this happens, the cells in your eyes release a chemical called histamine. Histamine does have its uses in your sleep-wake cycle and cognitive function, but when allergens are involved, your immune system overreacts.
When your eyes release histamine during an allergic reaction, it can cause inflammation. This can cause your eyelids to swell and block the glands necessary to produce healthy tears. When our eyes are irritated, it can be hard to resist the urge to rub or scratch them. However, this can worsen dry eye symptoms or possibly damage the cornea (the clear dome at the front of the eye).
Dry eyes aren't the only symptom of eye allergies. Other symptoms include:
Itchiness
Burning or irritation
Eyelid swelling
Sensitivity to light
Redness
Watery eyes
Do Antihistamines Cause Dry Eyes?
Typical treatment for allergies may include taking antihistamines. This can be effective at relieving runny noses, sneezing, or itchiness. However, antihistamines can also reduce tear production.
For some, this doesn't affect their eyes much. If you already produce enough tears, and your tears are healthy as is, you may not notice the reduction. But for those already experiencing dry eyes, antihistamines could be the tipping point and bring on more irritation.
You may need to use artificial tears to compensate for the reduction brought on by the antihistamines or ask your doctor for an alternative medication.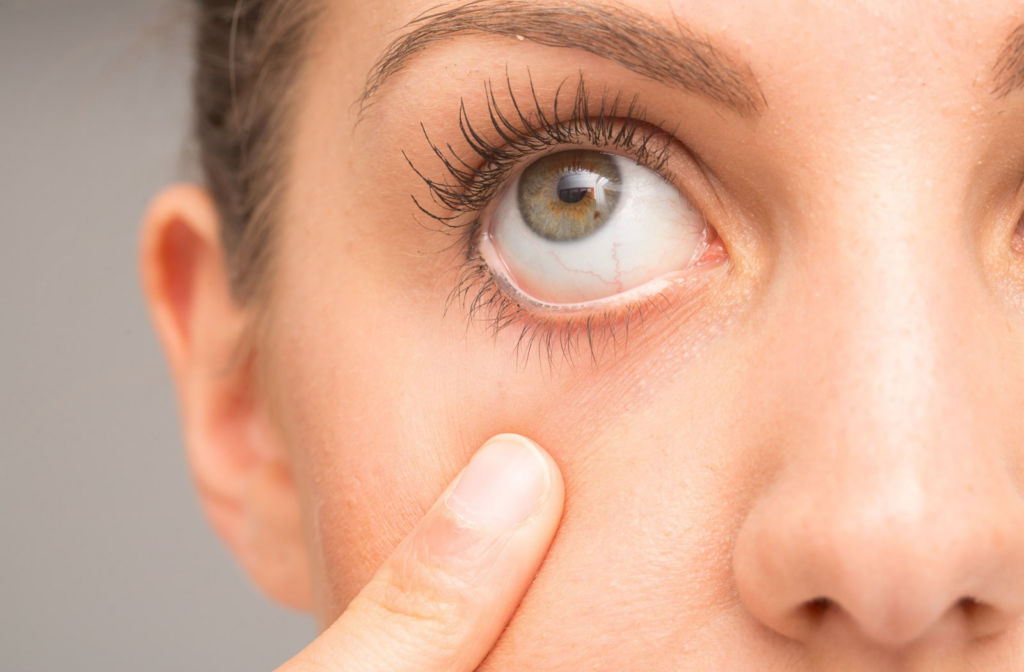 Relief from Allergic Dry Eyes
If allergies are causing your dry eyes, you're in luck. The dry eye symptoms typically fade once your allergic reaction resolves. Until then, focus on relieving the symptoms and staying comfortable. Try some of these methods:
Use eye drops, sometimes called artificial tears, to keep your eyes hydrated
Use a warm compress to help decrease eyelid inflammation
Blink regularly while working on a screen
Try omega-3 supplements
Use a humidifier to add moisture to the air
Preventing Allergic Reactions
Treating allergy symptoms is all good and well, but if you can prevent an allergic reaction to begin with, you may save yourself some pain. Allergen avoidance works best if you know what you're allergic to, but once you do, it can go a long way in reducing dry eye symptoms.
Try some of these techniques for avoiding eye allergens:
Stay indoors during peak pollen hours, usually mid-morning and early evening, or when the wind blows pollen around.
Don't use window-mounted fans that can spread pollen and mold around your house.
Protect your eyes with wraparound sunglasses.
Reduce dust mite exposure in the bedroom by using "mite-proof" pillow covers and sheets and washing your soft bedding regularly.
Keep your windows closed when the pollen is flying.
Wash your hands after touching pets or plants.
Avoid rubbing your eyes.
Dry Eye Relief in Your Neighborhood
Allergies are only one of the conditions that may cause dry eyes, so stop wondering what's causing your irritation; find the cause and the solution at Perry & Morgan EyeCare. We're right around the corner and ready to exceed expectations with our dry eye therapy.
If you or a family member is experiencing dry eyes, book an appointment today and say hi! We're always happy to see you.